Building A Smart Home: 2022 Must-Have Appliances
Nothing beats technology as it possesses the ability to make life easier. One of the most recent developments in technology, as well as the real estate industry, is the idea of a "smart home"
Imagine controlling your home devices, heating systems, lighting, and other aspects using a single device, which is either a smartphone or tablet. This eliminates the need to control these elements using multiple devices.
Homeowners will enjoy more convenience when they have a smart home technology system installed in their residences.
Continue reading to find out more about smart homes and the smart home appliances you must have if you are considering a smart home in 2022
What is a Smart Home?
A home that is considered to be "smart" has been outfitted with convenient technology that enables its appliances and other electronic devices to be automatically controlled remotely from any location that has access to the internet using a mobile phone or another networked device. A smart home is one in which our appliances are connected via the internet. This gives the homeowner the ability to control various aspects of the home, such as the temperature, the lighting, and even a home theater, from a remote location.
2022 Must-Have Smart Home Appliances
When it pertains to setting up a smart home, it might be challenging to track down the precise components you need for your dwelling. There is such a wide variety of choices available, such a wide variety of brands to select from, and a lot of the products appear to perform the same functions. Here are suggestions of appliances you can consider to make your home smart.
Smart Security System
It is a disposable fact that security risks and bugs are threats to building a smart home, which is why you must go for smart security appliances of a high standard.
Reolink E1 pro indoor camera: The E1 pro indoor camera is a discrete and space-saving device that easily integrates into your house. It is packed with a variety of intelligent functions, so it can do various things, such as spin at your command to access additional locations or send you individualized warnings whenever it detects motion. Because of its unrivaled cost, it enables even the most budget-conscious consumers to safeguard their homes in a sophisticated and high-quality manner.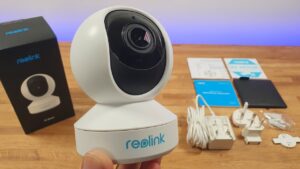 Features
4MP super HD
Simple installation with adaptable and safe storage
2-band wireless network with dual audio
355° Pan and 50° Tilt
24/7 pre-motion, motion, or scheduled recording
Audio and motion alert
Price Range: $41.47 – $89.59
Ring Video doorbell: If you are considering installing a video doorbell to enhance your house's security, then I can say undoubtedly that you should consider Amazon's immensely famous Ring home security brand. Choosing a Ring gadget is definitely not your only option for a video doorbell but Ring has a large array of video doorbells that are suitable for a wide variety of residences which makes it the best choice.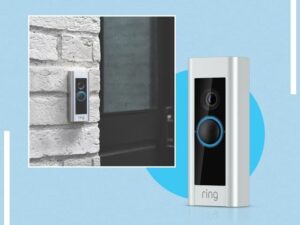 Features
Both wireless and wired connection
crystal-clear color night vision.
Head-to-Toe HD+ Video
Low-priced option
A complex history of police relationship and privacy
Price range: $251.87 – $309.99
Smart lighting system
Smart lighting, on the other hand, provides you with far greater management of home illumination. Each smart bulb and LED-integrated fixture may be wirelessly controlled with your smartphone, tablet, or smart assistant, whilst still being wired to your home's electrical system.
Philip Hue White & Color Ambiance Starter Gen 3
If you are interested in purchasing smart light bulbs, Philips' Hue bulbs are the best option currently available. This starter set comes with three color and white ambiance lamps, as well as a hub for the Philips Hue system. After they have been set up, you will be able to control them using either your phone or the smart device of your choosing.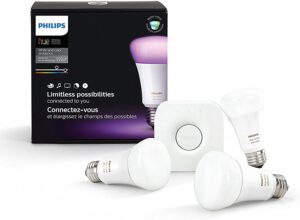 Features
The Operational humidity is 5%<H<95% (noncondensing) and -10°c-45°c temperature
A+ Energy Efficiency label
Color temperature of 2000k – 6500k + 16 million colors
25,000 hrs lifetime
10 wattage and 60 wattage equivalent
Upgradable software.
Price range: $289.00 SGD
Smart Speaker
One of the best smart devices you can purchase is a speaker. That is because it not only plays your favorite music from the streaming providers you have chosen, but it also features a voice-controlled digital assistant that you can use for a variety of tasks. The best smart speakers let you control music with your voice, set timers, and even have them read you the most recent news stories or sports scores.
Amazon Echo
The Amazon Echo gadget consists of two speakers and other computer technology encased in a slick cylindrical housing that is black. It connects to the internet through the Wi-Fi that also comes pre-installed, plus it has the capability of connecting to your phone by Bluetooth. It is also compatible with a wide range of peripherals, allowing you to control several aspects of your life.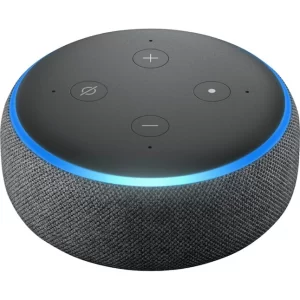 Features
It supports a variety of streaming services
It has access to audiobooks
It gives room to add more skills from third-programmers
It uses Amazon's virtual assistant, Alexa.
Price range: Less than $200
Final Thoughts
Now that you have decided to get serious about constructing your smart home,  make certain that your Wi-Fi connection is reliable before investing in smart home gadgets. This will allow you to make the most of your new technology. Your new devices will not be able to access the internet if your connection is poor which will render many of the most useful aspects of those devices inoperable.
This is why I  strongly suggest that you get Eero's Mesh WiFi System. It has three routers, each of which is capable of creating a robust and reliable internet network that is capable of covering an area of up to 5,000 square feet in size.
It is simple to install and manage using the app developed by the company and with just a few taps on your screen, you can troubleshoot issues, change the name of your network, and change the password.
You must be aware that one of Eero's routers must always maintain a connection to your cable modem to function properly. The other two can be completed from any location within your home.